The Fire Congress will be held in Monterey on California's central coast about 2 hours south of San Francisco. The congress location provides ample opportunities for field trips to natural areas and the ability to interact and learn from the partners and colleagues working with fire in California's landscapes.
Monterey County is the ancestral homelands of the Esselen, Rumsen, Chalone, Sureño, Chunchunes, and Guatcharrone people. We recognize they have stewarded the land in this region since time immemorial and are active stewards of the land today. We are happy to be collaborating with the Esselen Tribe of Monterey County to integrate cultural knowledge and traditions into this event.

Congress Meeting Venue and Hotel
Hyatt Regency Monterey Hotel and Spa 
1 Old Golf Course Rd
Monterey, California, USA 93940
Visit the Hyatt Website
The room block for the Hyatt closed on November 3. They will honor the per diem rate for federal employees if there are rooms available. Please call 1-831-372-1234. As of November 10, the hotel was sold out for the night of December 5. See below for additional info.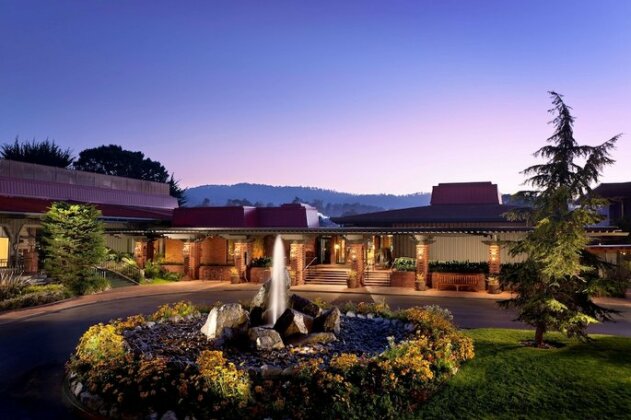 Guestrooms feature a king or two queen beds, refrigerator, wifi, TV, and stereo. 
Reduced rates will be $184 per night (please note this is the pervailing federal per diem rate as of October 1, 2023). 
Taxes for guestrooms include a 13.6% occupancy tax and $4.50 per night Monterey County Tourism Improvement Distict tax. 
The Service Fee is waived for congress attendees; this fee includes self parking, airport shuttle, standard wireless internet in room, and use of fitness center.
The group rate is available for attendees 3 days before and after the event, from November 30 to December 11.
Rooms must be reserved before November 3, 2023.
Additional Lodging
There are many hotels in Monterey; we are listing two below which are less than 1/2 mile from the Hyatt for convenience. We do not have a block at either location.
The closest hotel nearby is the Hilton Garden Inn, which is 0.5 miles away. They have rooms starting at $192 and honor the federal and state rates. Rooms can be

booked online

.

The Stage Coach Monterey is also very close, 0.3 miles. Rooms can be

booked online

.
Travel Information

Local Transportation
The Hyatt provides a complimentary airport shuttle to and from the Monterey Regional Airport
Click here for ways to get around Monterey without a car. 
Options such as the Monterey Airbus are available from San Francisco or San Jose Airports at an additional fee. We will post recommendations for travel from nearby airports, along with a group discount rate.
Nearby Airports 
Monterey Regional Airport, 5 miles
San Jose Intl Airport, 76 miles 
Oakland Intl Airport, 106 miles 
San Francisco Intl Airport, 107 miles
Fresno Yosemite Intl Airport, 157 miles
Sacramento Intl Airport, 190 miles