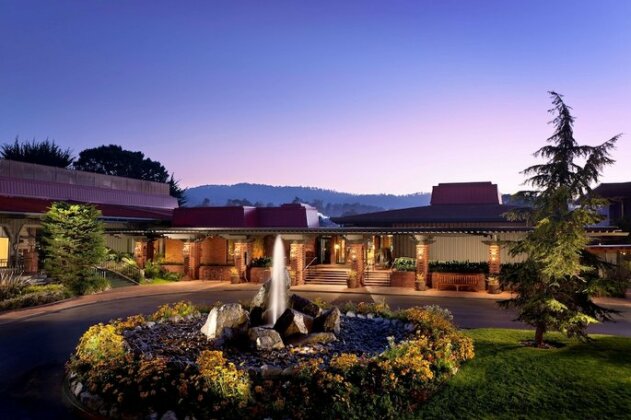 Congress Location
Hyatt Regency Monterey Hotel And Spa
1 Old Golf Course Rd
Monterey, California, USA 93940
Visit the Hyatt Website
The Fire Congress will be held in meeting rooms at the Hyatt Regency in Monterey, California. Attendees can stay onsite at the hotel and take advantage of our reduced room rates of $166 per night (or the prevailing federal per diem rate at time of event). 
Monterey is located on California's central coast about 2 hours south of San Francisco. While at the congress, you can enjoy Monterey Bay's amazing marine life, countless beach and ocean activities, historic landmarks, and the beauty of land-meets-sea scenery. The congress location provides ample opportunities for field trips to natural areas and the ability to interact and learn from the partners and colleagues working in California's landscapes. 
---
Hotel Accommodations
Guestrooms feature a king or two queen beds, refrigerator, wifi, TV, and stereo. 
Reduced rates will be $166 per night or the pervailing federal per diem rate, plus tax which is currently 13.6% and $2.90. 
The Service Fee is waived for congress attendees; this fee includes self parking, airport shuttle, standard wireless internet in room, and use of fitness center.
The group rate is available for attendees 3 days before and after the event, from November 30 to December 11.
Rooms must be reserved before November 3, 2023. 
A reservation link will be added here as we get closer to the event. 
Travel Information
Local Transportation
The Hyatt provides a complimentary airport shuttle to and from the Monterey Regional Airport
Click here for ways to get around Monterey without a car. 
Options such as the Monterey Airbus are available from San Francisco or San Jose Airports at an additional fee. We will post recommendations for travel from nearby airports, along with a group discount rate. 
Nearby Airports 
Monterey Regional Airport, 5 miles
San Jose International Airport, 76 miles 
Oakland International Airport, 106 miles 
San Francisco International Airport, 107 miles
Fresno Yosemite International Airport, 157 miles
Sacramento International Airport, 190 miles