Registration Types
AFE Members: We offer discounted registration fees for AFE and SAFE members. If you are not currently a member, click here to join.
Students: For individuals who are currently enrolled as an undergraduate or graduate student.
Retiree: For individuals retired from active employment.
Sliding Fee: Primarily for individuals

living in countries with low income or lower-middle income economies. Or for individuals with low income who are unable to attend due to their financial situation.

Student Volunteer: Volunteers will sign-up to assist for 4 hours with conference tasks. Priority will be given to student attendees.
Scholarships: For those needing additional financial assistance, please click here for more information about registration and travel scholarships.
Note: Due to low interest, we will no longer have an option for virutal registration or virutal program elements included in the program.

Registration Dates
July 1 – August 30: Early Registration Rates
August 31 – October 27: Regular Registration Rates
After October 28: Late Registration Rates
*Chrome is the preferred internet browser for completing the registration form. 
In-person Fees
Payment Options
Refund Policy
In-person Fees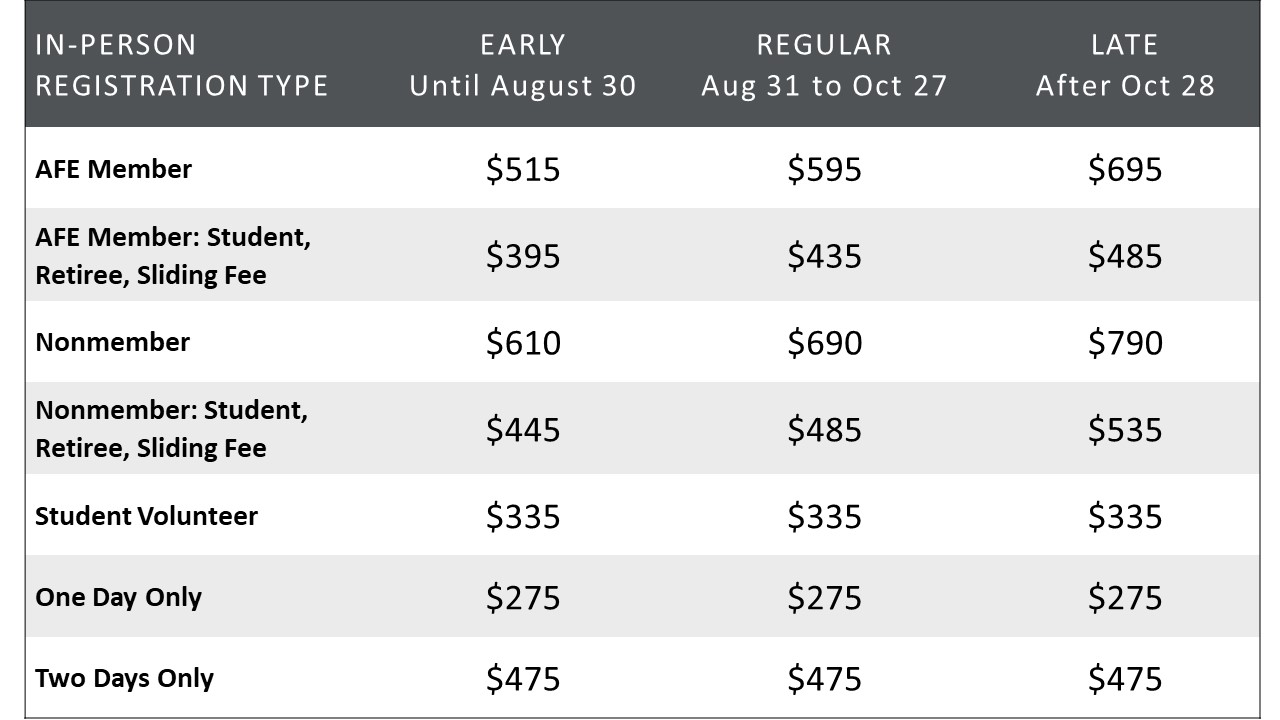 Registration Includes
Access to all plenary and concurrent sessions
Access to evening social events
Poster and Exhibitor Reception, with lunch provided on Tuesday, Dec 5
Morning breaks with coffee, tea, pastries, and fruit
Afternoon breaks with coffee, tea, lemonade
Additional Registration Options
Monday, Dec 4: Workshops 

Morning or afternoon workshops: $25
Full day workshops: $50

Friday, Dec 8: Field Trips 

Includes lunch and transportation: $65

Lunch Tickets

Tuesday Lunch: Poster Session and Exhibitor Reception (Free, RSVP so we can estimate attendance)
Wednesday Lunch: Grab and Go Buffet ($15, includes choice of a sandwich, chips, fruit, cookie, and granola bar)
Thursday Lunch: Awards Luncheon ($30, plated lunch with salad, choice of entree, and dessert)
Payment Options
Refund Policy